Summary rating from user's marks. You can set own marks for this article - just click on stars above and press "Accept".
Accept
3DRobotics IRIS+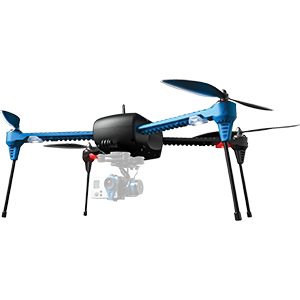 The 3DRobotics IRIS+ drone is ready to fly pretty much right out of the box. Attach the props, charge the included battery and you are ready to go with the included controller or by using a Mac, PC, Linux or Android capable device. This user friendly flying drone is capable of professional level flight performance while being simple to use. IRIS+ is able to land itself automatically or return to a specified home point if it accidentally travels out of range or runs low on battery, keeping you free from worry that your Quad Drone will suddenly drop from the sky due to insufficient battery levels. The 3DRobotics IRIS+ is all you need to start taking your own aerial photos and videos from amazing new perspectives.
Using the free DroidPlanner app, IRIS+ users can easily plan flights by drawing their flight plan on any Android tablet or phone. Your drone will go where you want it to go, totally hands free, with almost unlimited waypoints. Using the IRIS+'s 3rd Person View Follow Me technology allows users to turn their drone into their own hands-free camera crew. This 3PV Follow Me technology allows the IRIS+ to easily follow any Android device that is GPS-enabled with OTG compatibility. The IRIS+ offers 16-22 minutes of flight time and has a maximum payload capacity of 400 grams. Other factors for flight time include wind conditions, elevation, temperature, humidity, flying style and pilot skills. The 16-22 minutes applies to elevations less than 2,000 feet above sea level.
The base price for 3DRobotics' IRIS+ might give you a little bit of a sticker shock at its price of $750. Included at this price is the IRIS+ itself, transmitter, 3DR telemetry radio, Micro USB cable, Android OTG cable, set of tail legs, 5100mAh 3S battery, LiPoly battery, manual, and flight checklist. The four propellers are tiger motor multi-rotor self tightening, measuring at 9.5 x 4.5 inches each. Two rotate clockwise, while the other two rotate counterclockwise. uBlox GPS with integrated magnetometer make navigation easy for the IRIS+. This drone comes with an integrated GoPro camera mount with vibration dampener with the option of purchasing an optional Tarot T-2D Brushless Gimbal for an additional $210. You will also need to purchase your own camera unit, as one is not included in the price.
IRIS+ features an attractive black body with two blue legs for contrast and weighs in at 1,282 grams with the battery. Integrated LED lights on all arms allow for easy directional awareness and orientation day or night. Using a 915 MHz telemetry radio frequency, for US and Canada, the included controller allows you to see real-time flight data, change the drones mission, tune and use an Android device as a ground station. With the 3DRobotics IRIS+ drone you have to guess if your camera is lined up with what you want to capture, unless you purchase an additional first-person view kit, which will run you an extra $350.
Overall, for a ready to fly from the box unit that requires only a charge of the battery and quick attachment of the propellers, the 3DRobotics IRIS+ drone is a great way to go. Without a doubt, the IRIS+ has the best autopilot and GPS functionality available today. If you happen to lose sight of the drone, a simple flip of a switch will find its way back to you autonomously. This is a great product for someone looking to purchase their first drone, and we are happy to include it on our list of iReviews 2015 best drones.
Related YouTube videos:
Embed: <a href="http://drones.ireviews.com/3drobotics-iris-reivew"><img src="http://www1.ireviews.com/images/2015-iReviews-silver-badge.png" alt="3DRobotics IRIS+ iReview"/></a>