Summary rating from user's marks. You can set own marks for this article - just click on stars above and press "Accept".
Accept
Im Watch
"I'm Watch can be your newest piece of innovative technology, and is definitely worthy of rounding out our list."
---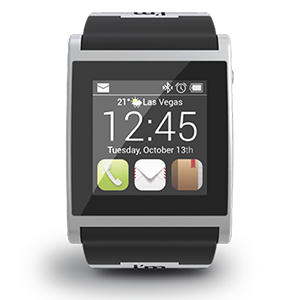 The Im Watch is the world's first real smart watch. The I'm Watch is like having your personal life and social life on your wrist. Rather than fumbling in your pockets to pick up a device, or cringing every time a product slips through your fingers and crashes to the ground, the I'm Watch is intended for instant access to a smart phone's structures in a safe and secure way.
The I'm Watch is still, at its core, a watch. It preserves the traditional appearances of a timepiece, and its materials continue to be largely handcrafted in its native Italy. The objective for I'm Watch is to arrange for the user to have an instinctive device that sits in a naturally classic shell.
The watch does not have Wi-Fi, so without a smart phone to couple it with, you will not be able to take advantage of any of its features. It connects via Bluetooth and brings you calls, SMS, e-mails, notifications and any apps directly to your wrist. The I'm Watch is a really user-friendly and system-friendly smart watch. It comes in a variety of styles including jewel, color, or tech collections. It has magnetometer & accelerometer sensors.
The Bluetooth tethering connection allows you to connect to Android 4.0+, iOS 4+, and Blackberry 10+. Unfortunately, if your cellular service provider does not provide tethering as a standard feature you will need to subscribe to a tethering plan which will cost you even more money. Without this capability, your smart watch cannot install apps or receive firmware and software updates. The headphone jack is also used as the charging port.
The I'm Watch comes with an abundance of built-in apps to give you instantaneous access to a vast array of features. From weather to stock markets, news, calculator, time zones and much more, a universe of possibilities await you. Many apps wait to be discovered as soon as you turn on your I'm Watch. Your I'm Watch correlates with your smart phone, which allows you to check your emails, SMS notifications, Facebook, Twitter, Instagram, appointments, music, contacts, photos, and all of the apps available on I'm Market. There is even a proximity alert that lets you know when your phone is out of Bluetooth range in order to prevent you from unintentionally leaving it behind. Also, a sleep mode is initiated to save battery life if the smart watch doesn't perceive movement for a user-indicated amount of time.
Another downside to this smart watch that makes modifications and installations a hassle is that I'm requires you to create an account at the I'm Cloud Online Store and to be logged in to make any software changes to the watch. It is also not water proof, so steer clear of pools and be cautious if wearing while washing your hands.
The complete watch face is a touchscreen that permits you to read messages, emails and social media notifications with just a tap on the screen. You can also answer, reject or place phone calls with the watch, with the help of its built-in microphone and speaker. If you get a call when your hands are occupied, just shake your wrist to reject it. The speaker can even be used to play music via the I'm Market music player, or you can plug in your headphones.
I'm Watch's customized version of Android delivers a brand new experience with a Smart interface. It is light and little weighing only 95 grams and it is 52, 90 x 40, 60 x 10mm. It uses a CPU: IMX233 processor. It uses a flash drive that has 4GB of RAM which is equivalent to 128MB.
The I'm Watch has a heavy set metal design that its Italian designers created to certainly please the eye. Italians are first-class leaders of industrialized design and fashion, and this smart watch looks very nice on your wrist. It has a 1.54" TFT LCD color display. It has a resolution of 240×240 pixels with 220 pixels per inch.
Charging of the I'm Watch is achieved in approximately one hour through a nonstandard USB cable that sports a 3.5mm headphone jack on one end. Unfortunately, even with little use, battery life is only one day. It has an oversized 4GB of internal memory and the I'm Watch storage easily mounts as a drive on your computer, would be seamless for transferring data, and for averting the need to carry a thumb drive in your pocket.
So, if you want to live smarter, then get the I'm Watch and keep your smart phone in your pocket. With its stylish and chunky design, responsive touchscreen and 4GB of integrated storage, the I'm Watch is worth looking into. For a cost of $249, the I'm Watch can be your newest piece of innovative technology, and is definitely worthy of rounding out our list of iReviews 2014 best smart watches.
Related YouTube videos: