Summary rating from user's marks. You can set own marks for this article - just click on stars above and press "Accept".
Accept
Apple Watch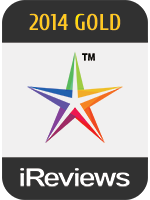 "The Apple Watch is a leader in the smart watch industry and definitely worthy of the top spot on our list of iReviews."
---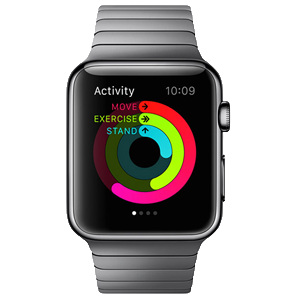 The new Apple Watch is anticipated to be one of the most innovative, groundbreaking and stylish smart watches we have seen to date. This is no surprise coming from Apple, as they have a long history of innovation in various industries, starting with personal computers in the late 70's, continuing with MP3 players and smart phones in the 2000's and now leading the way once again with a product that will once again become the exception and the rule.
The Apple Watch is designed to be an extension of your iPhone, iPad and iPod, contained within a small yet stylish package right there on your wrist, offering all of the convenient features iOS has to offer, all rolled up into one. A lot of features that we are seeing in the new iPhone 6 and iPhone 6 Plus, such as activity tracking, will be featured in the Apple Watch as well.
Designed with a wide range of preferences in mind, the Apple Watch comes in many different styles, colors, and designs, providing thousands of possible combinations that can accommodate just about any look and function. The three main classifications of the watch, which are the Watch, the Watch Sport and the Watch Edition, are designed and priced to give you a good starting point in deciding what basic looks and functions you would like to have.
Engineered to mind blowing perfection, accuracy and innovation, the Apple Watch maintains some of the classic, traditional watch features while adding something new that we have never seen before. Taking advantage of a simple thing that most other smart watch manufacturers overlook, the fact that the watch rests against your skin, Apple has added a back with pressure points that give you a gentle tap that alerts you of incoming notifications. The crown dial, which has been a standard on watches for over 100 years, is utilized here as well, functioning as a digital input the same way the tracking wheel works on the iPod, and once again establishing Apple's standard of utilizing simplicity in a way that permanently changes the technology and even the world.
The Apple Watch can also measure the amount of steps you can take in a day, as well as monitoring your heart rate for cardiovascular workouts. The activity app within the watch can track your workouts on a daily basis and store results for you to review at any time, monitoring your fitness goals and progress in a simple yet effective way. It also comes in either 38mm or 42mm sizes, in case you want a slightly bigger display. It isn't bigger by much, but the difference is surprisingly noticeable, as they have managed to make the most of the small screen space. You can also get your Apple Watch in 18 karat yellow or rose gold with a leather band, or you can opt for a stainless steel or aluminum alloy case and band if you want a look that can be more casual, but also work in formal settings. There are also sport bands available with the Watch Sport, which allows you to use your watch primarily as a sweat-proof workout aide.
Your watch face display can be customized by design, layout and color, allowing over 2 million combinations of looks and displays. One of the key features of the Apple Watch's display is the friend circle feature which, with a simple push of a button, displays a configuration of circular thumbnails representing your favorite contacts, allowing for easy access to texting and calling. You can send or receive texts and emails and even place and receive calls, all within your Apple Watch. Each alert is distinctive and subtle, a combination of audio and tactile cues designed to let you quickly know what type of contact or notification is being sent to you.
In addition to traditional messaging methods, Apple has included Sketch, Walkie-Talkie, Tap and Heartbeat features. Sketch allows you to draw a heart to send to your sweetheart, or any other type of simple image you can imagine. Walkie-Talkie enables 2-way audio that permits you to send quick sound bites to your friends. Tap, which is similar to poking on Facebook, allows you to quickly let your friend or your special someone know that you are thinking of them. Finally, Heartbeat allows you to touch 2 fingers to the screen and send a quick recording of our heartbeat to someone, letting them know in a subtle yet romantic way how you feel about them.
Another important feature that is included is the Wallet, which is a secure and safe way to remit payments. Store your credit cards in your Apple Watch and use them to electronically pay for goods practically anywhere in the world. A device account number and a special code are created for each payment method, preventing unauthorized access to your identity and funds.
With Glances, Apple takes their collection of apps and helps you experience them in a new way. You can choose what relevant information is displayed on your screen, maximizing the space you have. Access your Calendar, Maps, Passbook, Music, Apple TV, iTunes, Clocks, Timers, Stocks, Weather, Siri, Photos, Settings and much more with a simple touch of the screen or flip of the crown. If ou want to continue on your iPhone, you can do that too. A new developer platform, called WatchKit, will allow developers ways to create their own innovative and convenient apps for this amazing device as well.
Apple advertises their Watch as not only a way to tell time, but to make the most of it. From what we have seen so far, this is shaping up to be very true. There is no doubt that when this watch hits the market in early 2015 that it will take the market completely by storm, the same as so many other Apple products have for 35 years. The Apple Watch is a leader in the smart watch industry and definitely worthy of the top spot on our list of iReviews 2014 best smart watches.
Related YouTube videos: