Summary rating from user's marks. You can set own marks for this article - just click on stars above and press "Accept".
Accept
Pebble Steel
"It's a useful smart watch, but more importantly, it's a good-looking watch."
---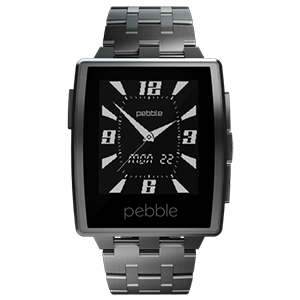 The Pebble Steel is a smart watch that caters to you and looks great doing it. You can tell more than just time with the thousands of apps that are available from the Pebble app store. Keep in touch, get around town, pay on-the-go, or play a game – it's all up to you. With a price tag of $250, the Steel can be yours. It is one of iReviews 2014 top picks for smart watches for being the most versatile choice.
The Pebble Steel is, basically, a device that — like many other smart watches and wristbands — acts as a directly-paired accessory for your phone. It sends and receives information back and forth. It can be a second screen, but it cannot be in-sync with your phone if it is not in close proximity to it. It works admirably with both Android and iOS.
The Steel and the original Pebble share some likenesses. The two watches share the same innards. They use a 1.26-inch e-paper display (with a resolution of 168 x 144), ARM Cortex-M3 CPU, 130mAh battery and a waterproof design that can withstand up to 50 meters or five atmospheres. Some of the differences between the two are the cost of them for starters. The Steel comes at a $100 premium over the original. The Steel also adds an RGB notification light, oleo phobic anti-fingerprint coating and a new charger. There's also an astute black band that wraps around the perimeter of the device and acts as an external Bluetooth 4.0 LE antenna.
The Pebble Steel is like the little black dress of wearable technology; it goes with anything. The Steel comes in a brushed stainless or a matte black with leather and metal wristbands. The leather band is 205mm long, where the metal band is 215mm, but reducible to 160mm. Its build materials, industrial design and Gorilla Glass 2 help make the watch feel durable. The stainless steel body is light, yet sturdy with elegant polished edges.
The Gorilla Glass 2 lens protects the e-paper display, with an elusive Pebble logo inscribed in the black bezel around the screen. Pebble Steel has a tri-color LED on its face. Its nice-looking metal body is even compatible with just about any other 22mm bands as well, so the world is your oyster.
The Pebble Steel allows you to see texts, emails, and notifications at a glance. It gives you the ability to control music on your smart phone. It has an activity tracker and a pedometer for some of your fitness needs. Everything is controlled by the buttons on the side of the watch— there is still no touchscreen on the Pebble, so once you get used to which button does what, you can easily tap them to navigate around with no effort.
It has a lithium-ion polymer battery that will last 5-7 days. The Pebble Steel USB charge cable magnetically attaches like the old Pebble's, except the plug has been restructured for an improved grasp. An LED charging indicator rounds out the fresh features — red/orange for low battery and green for charged. It only weighs 1.97oz. The size of the Steel is 52mm × 36mm × 11.5mm.
With Apple's iOS it is easy to search for apps or just browse through the various categories that include tools & utilities, notifications, remotes, fitness and games. The budding list of apps includes some favorites like Canvas for Pebble, PebbGPS and Smart Watch Pro as well as new partner apps for Yelp, foursquare, ESPN and others. Unfortunately, the Android update is not available yet.
There is even a Pebble app that you can download on your phone that opens up an entryway to all of Pebble's apps. The app is simple to manage and very much like a Kindle app, and you can download and accumulate any apps you find that suit your fancy and stockpile them on your Pebble app prior to stocking them onto the watch itself. If any of your apps get erased all you have to do is re-download them from the Pebble app store through your account. Installing and getting rid of Pebble apps only take a few seconds. You simply tap the screen and watch a progress bar as the app is loaded wirelessly via Bluetooth. The app shows what apps are on your Pebble, so you can click one, tap the remove button, and it's gone back to your app locker.
In the budding field of "wearable tech," the trick is getting the contraptions in question to be not only functional, but also fashionable, which is something that you would actually want to use and wear. The $249 Pebble Steel is a noteworthy accomplishment on both planes: it's a useful smart watch, but more importantly, it's a good-looking watch. The Pebble Steel is worth checking out if you are looking for an innovative accessory to your smart phone and worthy of inclusion on our list of iReviews 2014 best smart watches.
Related YouTube videos: